5 Tips to Maximize Your Internship Experience
Posted by

Date

8th June 2022

Comments

0 comment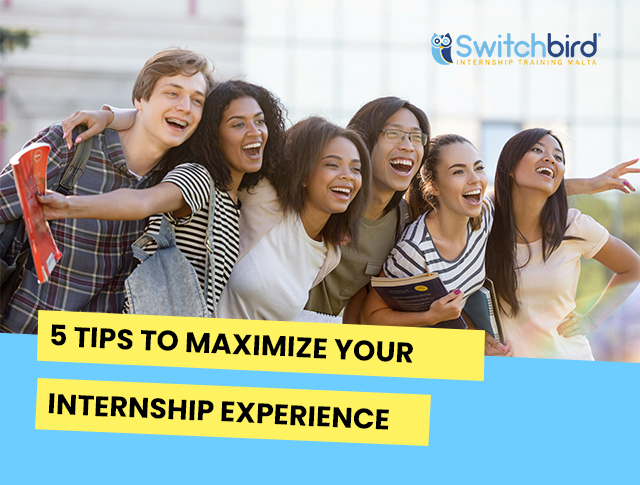 Introduction
There is no way around the fact that companies always look for candidates with proven and related experience to hire, this saves a lot of time and effort during the onboarding process. 
Doing a summer internship is a win-win situation. Internships help you know more about your future career by practicing what you studied, and help the company have "almost ready" candidates for future hiring opportunities. With mentioning that 43.5% of interns received a job offer at the end of their internship, you should also know that you will acquire so many qualities, personal and professional, that will help you in your future, even if you possibly couldn't get a job in the same company where you had your internship. 
If you're searching for an internship, already got accepted into one, or still thinking about the concept itself, this blog is just for you. We would like to give you some hacks to make the best use of this summer and maximize your internship experience. 
Check out the 6 Reasons Why You Need to Do an Internship This Summer.
Read the following carefully and always feel free to contact us or ask about anything related to summer internships.
1. It's normal to ask questions
There's no such thing as a stupid question, ask away!
Never be embarrassed to ask questions during your training about anything and everything. You're here to learn and get to know new information, so feel free to ask whatever. At the same time, make sure that you're not interrupting or affecting your colleagues negatively. 
Staff members and mentors do understand that you're here to learn, and they will understand your enthusiasm to find answers. They will also appreciate your interaction during your training period. Always remember this: Asking questions doesn't mean that you're unqualified, and not asking questions doesn't mean that you're qualified enough.
2. Jump in and be innovative
This internship is not a school classroom where you used to just take in information all day, go home to do your homework in the evening, and that's it! Forget about this mentality. It's now time to interact and be part of what you're studying.
Get yourself involved in everything you practice during the internship and motivate yourself by always remembering that this is your last real chance to learn before facing the real world outside your comfort zone, and trust me it's scary out there. 
Add some values and always think of brand-new ideas, encourage your colleagues to participate, give the needed help whenever asked, and never miss a chance to be innovative and think out of the box. Here you'll build enough confidence in your ideas and ways of thinking, by approval or correction from your mentors.
3. Build relationships and expand your network
Nothing will ever compete with good connections.
Now you have a good opportunity to deal and communicate with different people from various backgrounds, don't blow it! 
Always try to build good relations with your colleagues and mentors, inside or outside of the office. This will help you be more confident during your internship, and will also give you more information to be added to your experience. Perhaps set up short coffee chats with the heads of your department to better understand how the team operates and to ask questions about their career paths. This is also good for any future references, not just during the internship. Maybe one day, someone will recommend you to an open vacancy or contact you regarding any future opportunity because he/she knows that you're a good fit. It's like you're sharing your CV everywhere through people, not sending it via email. Be socially smart. 
4.  Leave a good impression
It's true that impressions last, so make sure to give a good impression about yourself during your internship. Here are some important areas that you need to focus on as an intern:
Treat this internship like it's your full-time job, in order to be fully committed. Your commitment to delivering tasks on time and learning new stuff in order to develop yourself will be noticed and will make you stand out from the others. Yes, commitment is hard, and being consistent is not easy at all, but practice makes perfect, and day by day it gets easier. Once you're a full-timer in the near future, you will feel great and there won't be any additional pressure on you, because you already trained yourself to commit to what you're doing. So, take this internship seriously. 
Good management of time tells a lot about someone's personality. Actually, it attracts the respect of others. Even if you're not a full-timer yet, train yourself to have a fixed schedule of timings, and stick to it. Timetables, reminders, and notes will make your life easier and help you manage your time successfully. Use technology for your good, and search for applications that will help you improve your time management. 
Collaborating with your friends is a crucial part of the internship, actually, that's how you will learn. Always make sure to take part in different activities and work on group tasks to learn from your colleagues. This doesn't mean that you shouldn't learn how to work independently, but it means that you should master both individual and collaborative work.  It's much easier to take the task home and get it done on your own, but don't take the easy way out, and try to adapt the needed social skills to be a good team player. 
5. Express your interests and follow up
Keep in mind that finishing your internship doesn't necessarily mean that you got a full-time job, it just increases your opportunities for having one. You need to show your interest in a full-time job by asking your mentors for final feedback or a review after the internship if it's not already an included part. Also, ask about your future opportunities and how to kickstart your first career step. 
One of the most effective ways is following up with the company that gave you the internship, without being pushy and asking them if there will be any future opportunities available. Just keep present in people's minds with your skills, and whenever there is an open chance, they will recommend you. 
Conclusion
Doing an internship is a great boost for your studies and a totally needed pre-career step, so start applying now and make the best use of the summer vacations. You don't even need to be a fresh graduate to think about internships, you can be part of an internship in your early studying years. You never know, just keep working on yourself. 
If you feel inspired and willing to start the internship process seriously, but you just don't know where to start, you can depend on us. 
At Switchbird Malta, we really know how to place you in the perfect internship that matches your skills and studies. You just need to visit our website and leave your information and we will provide you with a FREE placement test and guide you the ough it all.